Labor Aerospace Research Agenda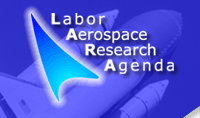 MIT's Labor Aerospace Research Agenda is committed to advancing theory, practice, and policy with respect to the 21st century aerospace workforce. We are researching the impact of instability on employment and new work systems. We also seek to understand and address issues centered on investing in intellectual capital, ensuring an effective institutional infrastructure, and global employment dynamics in the aerospace industry.
LARA is a program of the Center for Technology, Policy & Industrial Development.
Recent Submissions
The post-September 11th economy has confronted Rockwell Collins in Cedar Rapids, Iowa with hard choices. Faced with the need to cut costs, including laying off significant portions of the work force, the company and its ...

Across the industry there are leaders at every level who are being challenged to think and act in new ways. The same is true for this commission. This can't be a "business as usual" review of the industry's status. As the ...

(

Labor Aerospace Research Agenda

,

2001

)

For over five decades, Textron Systems has been an important contributor to the U.S. defense aerospace business. Its breakthroughs in thermal protection materials enabled NASA Apollo command modules and Air Force ...